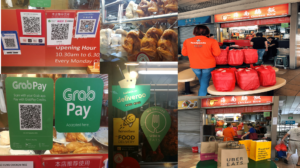 28 June 2018 by Lao Hung Jia
Imagine a time where anyone would walk into an unmanned self-service, cashless stall that offers hot cooked comfort food like the lip-smacking Singapore Chicken Rice at any time of the day or night; similar to the concept of an Amazon Go? How convenient it would be to have such a convenient option at this day and age, and the big question is why not?
Before we tackle this bigger question, we first need to ask ourselves a more fundamental question – why was this not possible before our times? By sorting out the underlining that hindered our forefathers from making this a reality in their days, we can then embark on the journey of avoid those pitfalls of our forefathers; learn from their shortcoming and engage in disruptive technology that would bring us in to the forefront of the next "hawkertization" roll out.
In the olden days, a regular hawker would be the main breadwinner of the average household with plenty of free hands at home to help out at the stall. Back then, the hawkers' key concern was to better their trade and to ensure the food standards are up to scratch. There is an almost religious pursuit on refining their food taste to offer the tastiest dish to their fiercely loyal and pickiest patrons. Most hawkers believe that by taking on this approach, it would help boost their business through word of mouth and there was never any need to mass market their wares.
With the mass introductions of modern food court and coffee shop eateries in the late 90s, these places offered a much more comfortable and cosy dining experience. These outlets also open up more direct competition among various hawkers who are offering similar cusines. It resulted in some unknown and unprecendented external competition which the hawkers were not used to in the past.
The ever ending pursuit of refining the good old taste of their trade were also under immense presure simultaneously.
Take, for example, the infamous Singapore Chicken rice.
My father has his chicken rice stall (Lao Hung Jia (LHJ): http://chicken.com.sg/ ) tucked away in Western Singapore for a long time; and like any other hawkers, he is also plied with the usual problems of finding dependable manpower to help set up the stalls in the early hours of the day, to assist with food preparation and cooking of the dish, to take orders and serve the long queue of waiting customers pinning for his infamous Hainannese chicken rice. Dependable manpower comes with a not exactly cheap price tag. as there is always a high demand for committed help, who is willing to endure both long operating hours at th stall, the humid working environment and also personally has a genuine passion to be a part of this unqie Singaporean food culture as a Hawker.
Though rent cost in the hawker centre are fairly regulated by the authorities, but the possibility of rental increase lingers at the back of his mind as he troddled into the unknown territory pretty much on his own back in those days.
The whole fiasco of thinking how we can better this dying yet important trade took off at the back of a vacation in Shanghai in 2016. My father was caught in the whirling stirring caldron of wondering the whys and how to enhance his hawker trade, to bring in more customers, drive up profitablity and in the longer run; sustain his hawkertrade or even better still; make the hawker trade into a sexy career option for the next generation. We knew instictively the key was in embarking on something totally different in an unprecendent way; leveraging on new technology and IOT (Internet of Things) to then ascertain how such integration would take off and spin this trade in a different pathway.
We first tackled the issue of payment. The traditional method of ordering, collecting and paying with cold hard cash was always deemed as the key payment method in the hawker trade.
The introduction of Alipay with QR code payment in 2016 which coincided with our Singapore Prime Minister, Mr. Lee Hsien Loong announcement during the same years' National Day Rally that Singapore would and should embark on alternative payment methods to catch up with times and that this would be eventually roll out nationwide. We also embark on similar payment platforms such as Liquid Pay, DBS Paylah, NETS, SUMO and with the latest platform offerings like Grab Pay and Wechat Pay. We knew we had to get ourselves ahead of others that will allow us to ride the next expansion phase.
The next phase of innovation was in the arena of food delivery. The initial engagement with specialised food delivery partners- Foodpanda took place in the same year. With the joint efforts of combining both traditional websites ordering and the launch of mobile app that allow customers to order our chicken rice direct, made the appropriate payments for their orders and have their orders delivered promptly to their doorsteps with a click of a button on their smartphones, things started to take off but to a slow promising beginning.
The returns were only seen in the next few months where there was an upward increase in mobile and online orders. Other similar delivery platforms such as Deliveroo, Uber (Now GrabFood), Honest Bee and GOF3R were brought on to expand LHJ's digital retail business platform offering.
The launch of innovative disruptive technology also enables my father's hawker business to delve into the worlds of modern data analytics and artificial intelligence sphere.
Before the introduction of these modern-day technologies, we struggled with pre-empting supplies based on real time demands. There were occasions where we had to turn away real business when we ran out of limited food supplies. With the embarkment of the digital retail platforms, they fed us real time data on how popular our food options were for the week and which day the demand for certain food types were going fast and furious with our regular customers. With the popularity dashboard based on customers ratings, we were able to anaylse the food order trend, plot the top 5 weekly products and also how we rated against our friendly competitors. These critical real time data provided us immediate visibility and focus for us to further hone our efforts to improve food quality and service response.
The last piece to this puzzle was on food preparation. In the traditional hawker environment, close to 50% of the time spent was preparing the food order of the day to ensure there are sufficient quantities to meet the demands of the day. We started to work with Singapore Polytechnic and Sin Hua Dee to develop pre-prepared ingredients for the chicken rice preparation. These were very useful with the further enhancement from Spring Singapore grants (Now Enterprise Singapore). Within seven months of research & development work, we have successfully developed key ingredients pre-mixed that has reduced the pre-opening stall hours workload by 50% in our chicken rice stall.
On highsight when we compare the revenue growth on a yearly basis, we uncovered that with the launch of disruptive technology, there has been an uplift of 50% revenue growth in 2017, of which more than 20% was derived from digital retail platforms.
The End of disruptive transformation?
With heightened awareness in the modern technology platform, Lao Hung Jia expanded into the social media arena such as Facebook, we see a heightened shift in a younger customer base with this almost bi-century chicken rice brand.
"Hawkertization" or the inception of Digital Transformation in the hawker trade help us to become more efficient in resource management, workload efficiency and with the inception of advanced payment and delivery process, it definitely has significantly reduced the constant pressure of having the 'regular long operating hours' workload of running a regular stall /outlet, this ultimately drives great process efficiencies and ensure there is continued sustainability in the hawker trade for the next generation with predictable future financial profitability.
We are now determined that it is the right choice to embark on this digital transformation for the new generation of the Singaporean hawker trade and we are very optimistic for this unmanned e-Hawker to be then next possible option in near future.
About Lao Hung Jia
A true-blue Singaporean setup, Lao Hung Jia (LHJ) has whetted Singaporean appetite for more than 25 years. Hainanese Chicken Rice has been crowned as one of Singapore's national dish. It is a sensational, must-eat dish that can be found anywhere around the island; from hawker stalls to hotel restaurants. From farm to table, LHJ totally grasp the essentials bit to serve up this satisfying dish. We have evolved from traditional chicken farming to automated poultry processing. We uphold the belief that choosing the compatible supplier-partner is one of the critical points to perfecting LHJ Chicken Rice. LHJ's innovation stems from her relentless pursuit to embrace the disruptive nature of modern technologies. While LHJ charge ahead by moving the traditional business to the next new level, she continues to conceptualize and further develop and refine her Chicken Rice business to be the trendsetter for the next generation hawkers. LHJ is actively pursuing growth opportunities with like-minded enterprises and regional ventures to expand its reach to introduce this local Singaporean dish to whet even more appetite and spread the appeal of this local dish.
Connect with Lao Hung Jia (LHJ) via http://chicken.com.sg or email marketing@chicken.com.sg